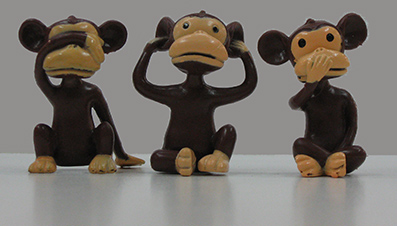 You've been a successful talent development professional for years. You achieve the highest evaluations. Internal clients clamor to work with you. Employees say they learn more from you than anyone. You've been employee of the year with regular promotions and raises for your skills. You're good and you know it.

For years you've watched consultants sashay in, design or conduct training, and waltz out with a big check. You know you can do the same—and better. You've always wanted to be a consultant. Today's gig economy excites you and you want to be a part of it. You have an exciting idea and have been thinking about striking out on your own to doing what you love.
Is this you?
You need more than an exciting idea and a passion for what you do to create a sustainable business. You need to avoid the common mistakes that many new consultants make. Review these three typical blunders and determine how you can prevent them prior to launching your consulting business.
Discounting the planning process. Yep, planning can be boring and it takes time. However, starting your consulting business without a solid plan is like driving in a foreign country when you are unable to speak the language and don't have a map or GPS! To get started you'll need at least a business plan, a marketing plan, and a financial plan.
Of course you won't need the same details that a large corporation requires, but you need a roadmap. A plan keeps you focused and heading in the right direction. You don't have time or money to waste on dead ends, wrong turns, and detours. Planning helps you answer questions such as these: What is your niche? What services will you offer? Who is your ideal client? How will you locate clients? What tools will you use to market? How much start up cash do you need? How much should you charge?
Don't skip the planning process. It may be the most costly mistake you make.

Relying on your expertise to be a successful consultant. Whether you are an expert in communication, leadership, cybersecurity, or artificial intelligence, you likely know your industry intimately; most consultants do. But your expertise alone will not lead to your success. Most consultants underestimate what it takes to run a business.
You are no longer a trainer, an instructional designer, or a performance specialist; you are a business owner. To ensure that you are in business a year from now (because unfortunately, almost 80% of new businesses fail…) you will need all the skills successful entrepreneurs require. How do you market your services? What do you say on a sales call? How do you manage cash flow? What taxes do you pay? How will you know when to hire someone to help you?
Don't think your expertise will automatically skyrocket you to success. You can't just print your business cards and wait for the phone to ring. It won't.
Setting your fees too low. First time consultants rarely set their fees high enough. If you are just starting up and we asked you to put a price on your head, there is a 90% chance that we'll recommend you double it. What? How can that be? Many figures go into making up your fee. You no longer have the protection of a company that will pick up your insurance, fund your retirement plan, pay for your days off, pay conference fees, or provide you with office supplies. You'll pay your own taxes, office rent, copying costs, utilities, accounting and legal fees, equipment purchases, and a myriad of other things. Go ahead. Add up the expenses necessary to run your business. Surprising, isn't it?
Now consider how much time you have to deliver services. You will soon realize that you will not be able to bill clients forty hours a week because you are also responsible for business development, operations, invoicing, customer relations, and accounts payable. (We can show you a formula to determine the revenue you'll require to keep your consulting business afloat.)
It's easier to establish an appropriate salary when you launch than to increase it at a later time. We know from experience! Besides, from your client's perspective, your fees may be the first indication that you can add value and that you are confident to produce quality results.
Launching a prosperous consulting business is dependent upon creating a plan, running your business like a successful entrepreneur, and compensating yourself adequately. How can we provide you with guidance for each of these?
Learn more about our online course:
Be the first to hear about the next time we open our online course titled Building Your Successful Consulting Business for enrollment. This limited-enrollment course gives you a chance to learn our time-tested, experience-based information. You'll receive hands-on guidance to build the successful consulting business you've been dreaming of. If you already started your consulting business, we can help you finally get your business to take flight.
More info and to join our waiting list: https://yourconsultingbiz.com
---
Here's what others in the talent development consulting field say about us:
"How can you save yourself from making costly and painful mistakes as you launch your consulting business? Tap into the practical and proven know-how from two of the best resources out there. Elaine and Halelly bring years of hands on experience that will help you prioritize your precious time and resources and give you practical tools you can immediately use. Their knowledge as business owners who have successfully done what you are trying to do as well as written books about it is invaluable. In addition, they are both great learning designers. That means that your learning experience will be effective above and beyond what you would ever expect. Avoid costly start-up mistakes at all costs. Sign on with Elaine and Halelly to ensure your success. "
Ann Herrmann-Nehdi
Author, The Whole Brain Business Book
Board Chair and Chief Thought Leader, Herrmann International
"Elaine and Halelly speak from experience. Their new course will, without doubt, help you develop a successful training consultant practice. With nearly 80% of consulting businesses failing within the first two years, you need guidance and advice from top experts within the industry. We highly recommend you embrace this program and learn everything you can from these two very successful talent development consultants. "
Patti P. Phillips, Ph.D., CEO
Jack J. Phillips, Ph.D., Chairman
ROI Institute
Authors of The Business Case for Learning

Photo of 3 monkeys by John Snape via Flickr Creative Commons
© 2020 Building Your Successful Consulting Business. All rights reserved.