Use this block to describe what this bundle contains, what your students will learn, and why someone should buy this bundle.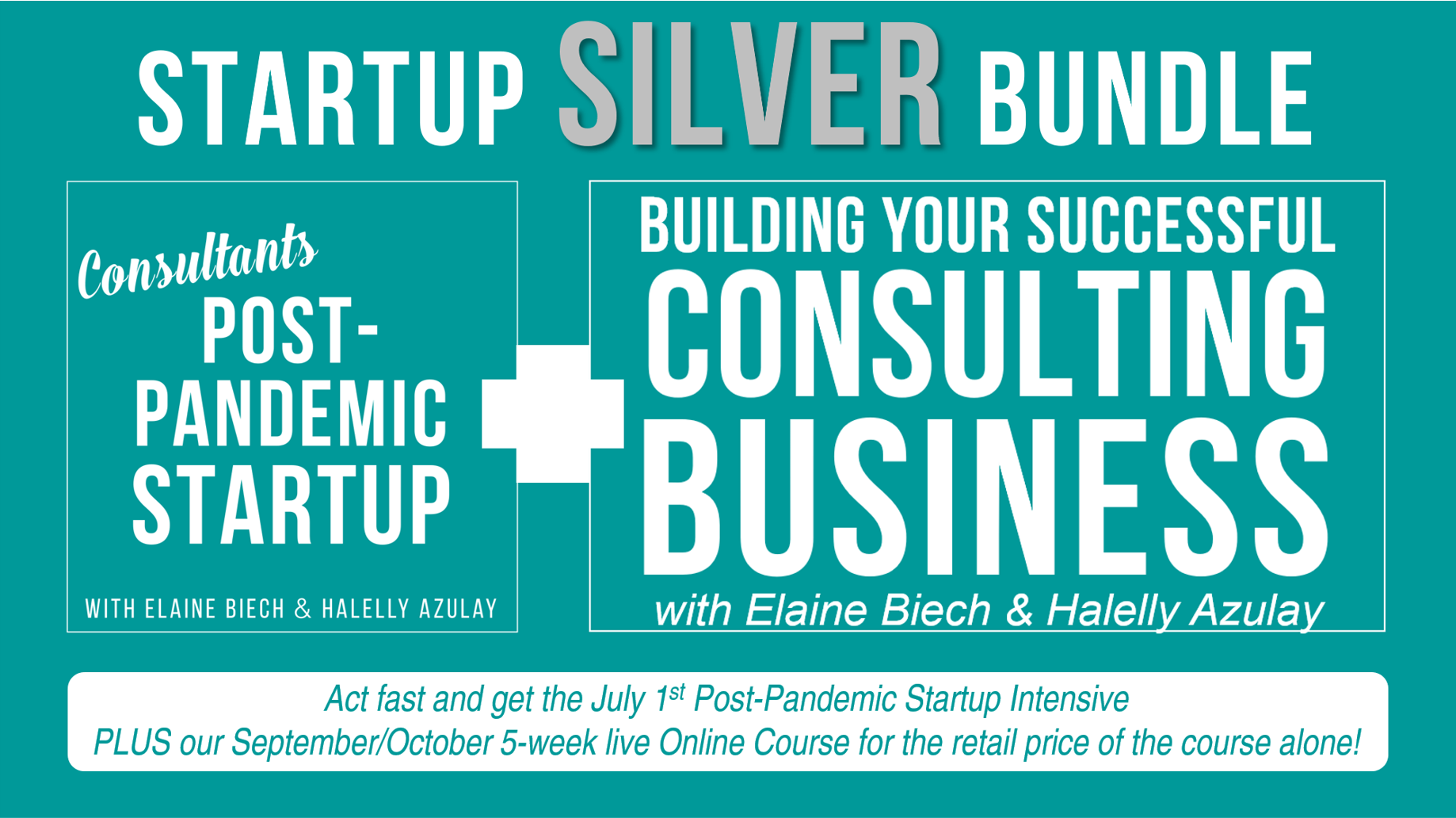 Get started in July and get even more guidance and support in September - and get your successful consulting business to take flight!
Why settle for one when you can get BOTH programs for the price of just one?
Frequently Asked Questions
When does the course start and finish?
The Consultant Post-Pandemic Startup is a full-day intensive taking place on July 1, 2021. Our 5-week LIVE course starts on September 15, 2021 and ends on October 16, 2021. But because it is a self-paced online course and you have access to it for the lifetime of the course, you can complete it at your own pace and come back to it as often as you'd like.
How long do I have access to the course?
Materials from the CPPS will continue to be available until September 14, 2021.
And for the 5-week course -- how does lifetime access sound? After enrolling, you have unlimited access to this course for as long as it exists - across any and all devices you own, for the lifetime of the course.
What if I don't have this amount in my budget?
What is it worth to you to know that you've got time-tested guidance and advice so that you don't have to figure it all out on your own? How much wasted time, headaches, rework, and even costly mistakes can you save yourself? Because you'll be able to participate and access all the materials for the life of the course, you'll benefit from future enhancements that will cost future participants much more money, without having to shell out another dime.
There are so many courses out there about starting and growing a business or becoming an entrepreneur. What's different about this course?
It's true – it seems like a new one pops up daily. We've been reviewing a lot of the courses out there, in fact, to determine whether this project was needed. What we found is that few are targeted and tailored to people like you and us – professionals in the talent development and workplace learning industry who want to start a consulting business in our industry.
When you take a course from someone who specializes in, say, social media marketing, or selling art, or teaching yoga, you don't have a guide who really understands where you're coming from and what challenges you face. Plus, their materials are not spot-on for someone who is building a talent development consulting business in those other, more generic 'start-a-business' courses. And you'll be learning in a cohort of people from mixed industries and backgrounds – how much value or insight can a photographer offer you on those Facebook group discussions before their advice becomes irrelevant or moot?
In our programs, you'll be learning from us. We've been where your are. We understand your business. Plus you'll learn alongside other peers who all come from a similar career and are on a similar path, building their successful talent development consulting businesses. We get you and can offer the most custom-fitted insights and advice for your unique needs.
Isn't there tons of free or inexpensive information on the internet or in bookstores that can teach me what I want to learn? Why pay?
There is a lot of information out there, some of which is actually really great and helpful. But it's scattered everywhere, in various formats and contexts. With all that you've got going on, do you really have the time or inclination to go searching and cobbling together your own program to get the results you seek? How much time will that take? Can you afford to spin your wheels like that when a concentrated, tailored, thoughtfully-designed program exists to take all that work off your hands and allow you to just focus on building your business?
We've got you covered and the time you save alone will be worth MUCH more than the cost of this program. Especially if you take our advice about how to price your services – you'll make it back in no time, so it's a no-brainer investment.
What if I am unhappy with the course?
We guarantee your results—110% as a matter of fact.
If you put in the time, do the work, and implement the ideas and still don't reach results after six months, we'll work with you to help you identify your obstacles and barriers and create an action plan to get you on the right path. And if you've implemented our suggestions and you're still not successful, we will give you 110% of your money back.
So there's no risk to joining us today – just upside benefits of finally getting your business off the ground successfully and living your dream of being a consulting business owner.
Bundle Contents
Showcase courses and coaching in your Bundle.